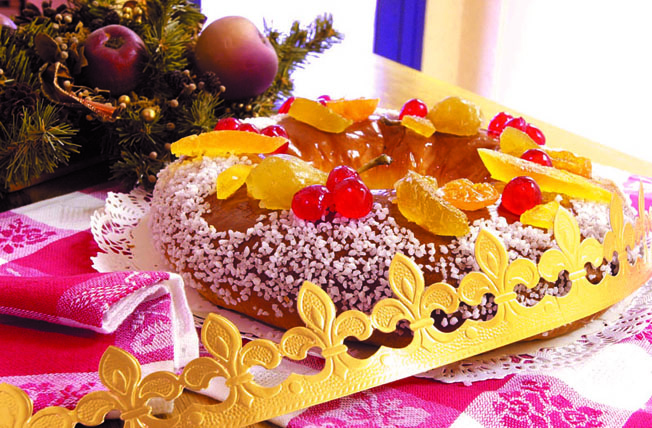 Preparation time: 30 minutes
Cooking time : 30 minutes and Waiting time : 4h30 + 1 night
250 g de farine + 50 g
125 g butter
100 g powdered sugar
2 eggs + 1 egg yolk
12 g baker's yeast
150 g candied fruits
1 tablespoon of orange blossom
5 g of salt
Granulated sugar
Candied cherries
1 decorative bean
Dissolve the crumbled yeast in 5 cl of warm water.
In a bowl, mix the flour, sugar, whole eggs, yeast, orange blossom water and salt.
Knead for about 10 minutes. Incorporate the softened butter previously cut in small pieces. Knead again for 10 minutes until you have a smooth and supple dough.
Dust the dough with flour and cover with a cloth. Let rise for 2 hours in a temperate place until doubled in size.
Break up the dough once (by lifting it with one hand and letting it fall with a dry movement so that it deflates).
Roll the dough into a ball and let it rise again for 1 1/2 hours.
Break it a second time and let it rest overnight in the bottom of the refrigerator.
The next morning, place the dough rolled into a ball on a baking sheet covered with parchment paper. Flatten slightly.
With a knife, slit it crosswise and make a circular incision about 3 cm deep at 2 cm from the edge.
Cover and let rise for 1 hour.
Preheat the oven (thermostat 7 at 210°C).
Place the candied fruits in the hollow of the pastry and insert the bean in the back of the cake. Beat an egg yolk with a tablespoon of water and brown the pastry with a brush.
Place in the oven and bake for about 30 minutes.
If the surface gets colored too quickly, cover the cake with parchment paper.
Let cool and decorate with candied cherries, candied fruit and granulated sugar fixed with a light honey brush.