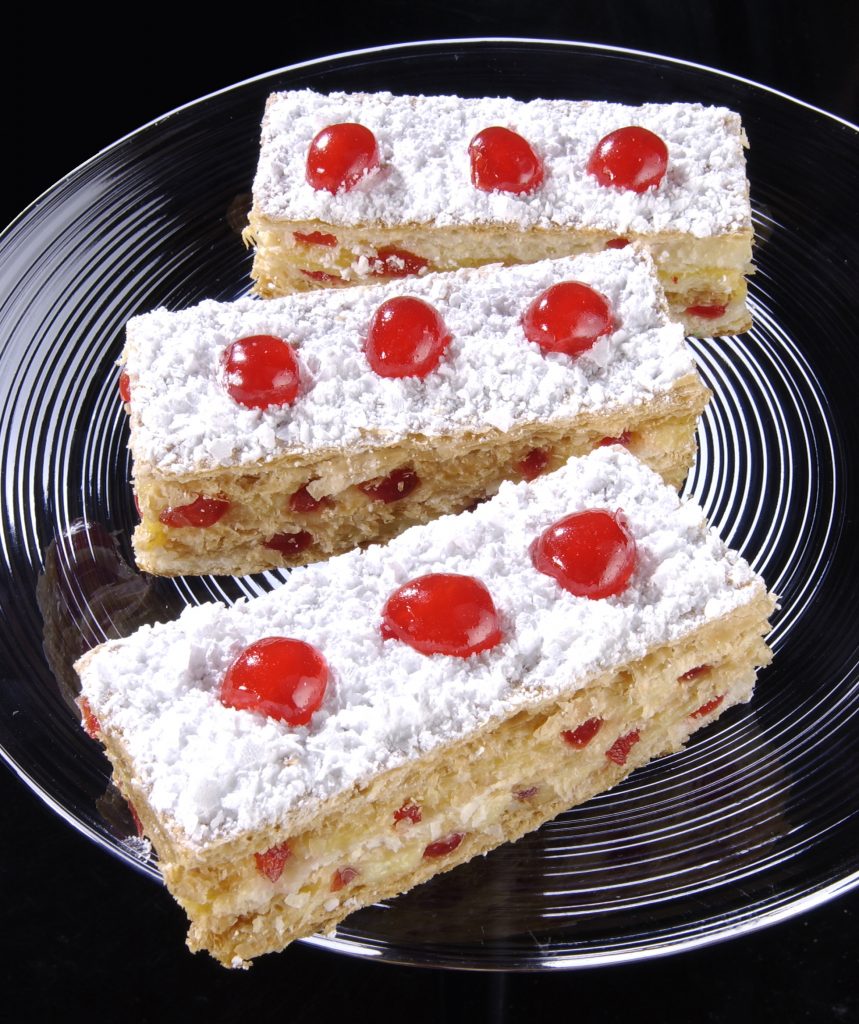 400 g puff pastry
300 g candied cherries
50 cl of milk
1 vanilla pod
10 cl of liquid cream
120 g powdered sugar
6 egg yolks
15 g of flour
15 g cornstarch
20 g butter
Powdered sugar and candied cherries for decoration
Preheat the oven (thermostat 7 at 210°C).
Roll out the puff pastry and cut it into 4 rectangles of about 20 x 25 cm.
Prick the dough with the tines of a fork and let rest for 10 minutes in the refrigerator.
Bake for 15 minutes on a moistened baking sheet.
In a saucepan, boil the milk with a vanilla bean.
In a bowl, beat the egg yolks and sugar then add the flour and cornstarch.
Once the vanilla is removed, pour the contents of the pan into the bowl and stir in the boiling milk.
Add the butter and the 300 g of candied cherries.
Allow to cool, then stir in the whipped cream.
Fill the first rectangle of puff pastry with a third of the cream.
Cover with the second rectangle of pastry. Top with another third of the cream.
Continue assembling the mille-feuilles.
Cover with the last puff pastry.
Dust the top with powdered sugar and decorate with candied cherries.
Serve with apple sauce or custard.